Darin and Carl's Story
Darin Henderson and Carl Cox aren't the only ones who are excited about their upcoming wedding day. And we're not talking about their mothers either, who are over the moon about it. With votes from thousands of strangers, the couple from DC managed to win a $100,000 contest to pay for their whole wedding.

To win, Darin and Carl first submitted an essay, which got them to the finals. Then they had to post a
4-minute video for voting – and their love for each other carried the day.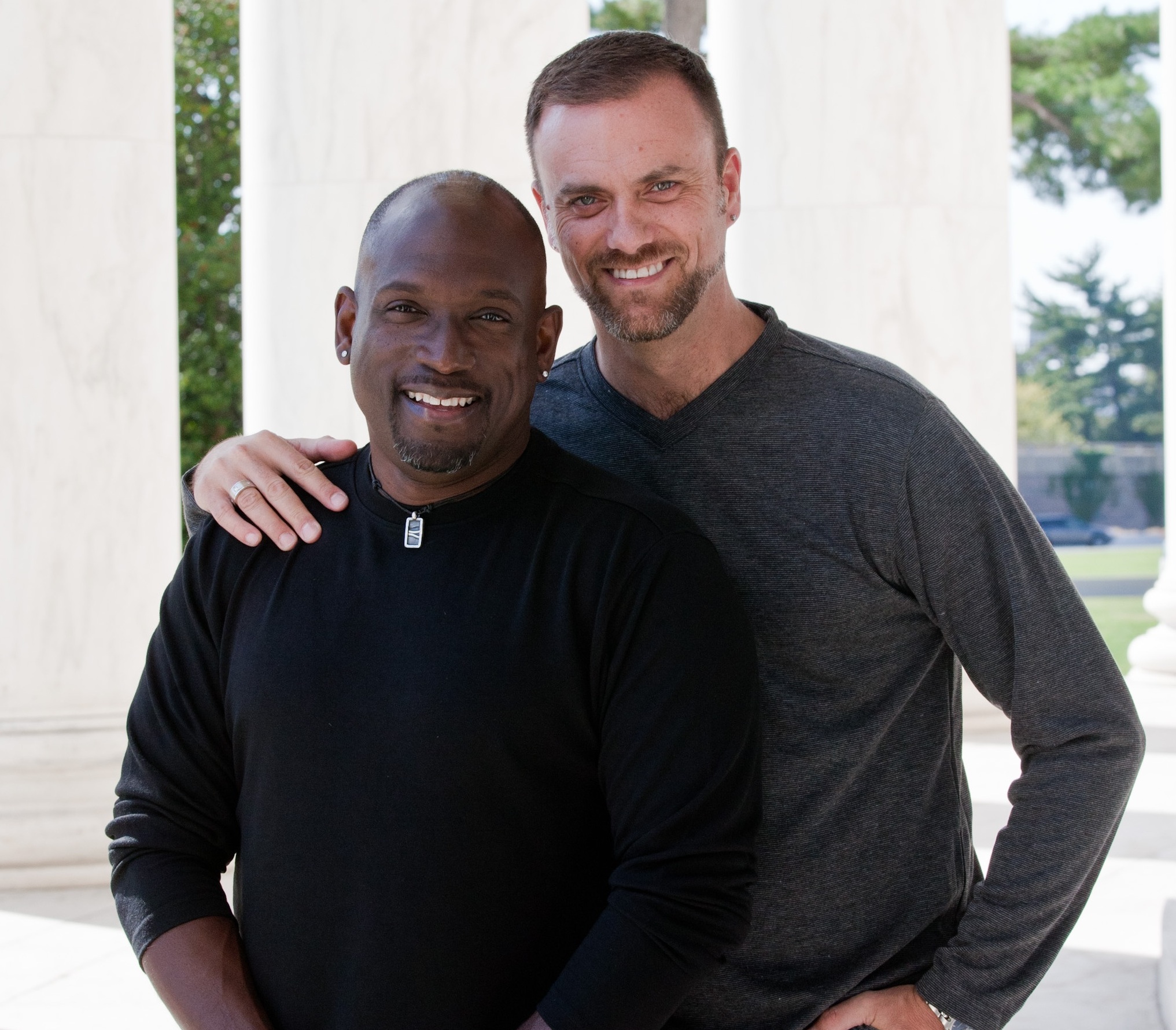 The pair met on match.com. "I won't say that I fell in love with him at first, but within the first six months I knew I was in love," says Darin. But there was still some ground to be covered for Carl, who had just gotten out of a relationship.
"I was not ready, and I don't think that I wanted to open myself up again, to anybody," says Carl. "But he persisted – and I am so eternally grateful that he did."
"The love just grew as time went on, and it's continuing to grow," Darin adds. ""He's a little bit more funny and carefree, I'm a little bit more serious in nature – but we kind of mesh as a whole."
The pair got registered as domestic partners after a couple of years – it was efficient, but not very romantic (not that it's supposed to be). "It was like, go to this window, then go to this window, get a stamp here, pay $45, here's your form – boom, goodbye," says Darin. "So there was no emotion, there was no feeling."
"Even though we were domestic partners, we didn't feel like we had the protections that we really needed in case something happened," says Carl. "It stopped way short of giving the union the recognition it deserved."
They decided to take the next step just days after Washington passed its marriage law in December 2009. On vacation in Mexico, Carl says he felt a love and connection that was far stronger than any he had felt before. "I finally realized that this man loved me unconditionally, was helping me to become a better me, and I too was helping him grow as well."
First in line to offer congratulations were their moms. "Darin is so happy, I am so thrilled that he and Carl met and are so happy together," says Darin's mother Cherrie. "Now I'm so excited because they can make their dream come true."
Carl's mother Nancy says, "It took him a while to meet someone like Darin, but he did. Darin is a genuinely nice, caring person." Tearing up, she adds, "All any parent wants for their children is to be happy – and now he is."
Then came the contest, Freedom2Wed, which is being sponsored by Washington businesses to celebrate the passage of marriage in the District. It covers everything from invitations to a reception for 150 people. Sure, Darin and Carl still have the regular wedding-planning headaches and pressures – but they say at least they didn't have to figure out who to hire.
Actually, says Carl, "It's been a great process for me to go through." He's got relatives coming in from all over the country. "I think it's only happening because it's actually a wedding. I think if it was some sort of ceremony, it wouldn't have had as much impact with the family."
"I've never been one to stand on a soapbox," says Darin, "but to a certain degree I want to stand up and show the world that we're a committed couple just like any other straight couple. We're in love with each other, we want to spend our lives together."
The wedding will happen at the Metropolitan Community Church of Washington, DC on March 4th – the five-year anniversary of their first date.
"I keep telling Carl that I've always been dreaming about the day," says Darin. "I know it's going to be something that I carry and treasure for years to come – and more so than having the day, I want to have the memory of the day to look back onto when I'm 60 or 70."
You can check out Carl and Darin's wedding website here, and see the video of them finding out they won the contest (Publishers Clearing House style) here.