Laura and Dyana's Story
How do you know when you've met the person that you want to spend the rest of your life with? Laura McGinnis and Dyana Mason might have gotten it down to an equation that's deceptively simple – but you have to know what you're looking for.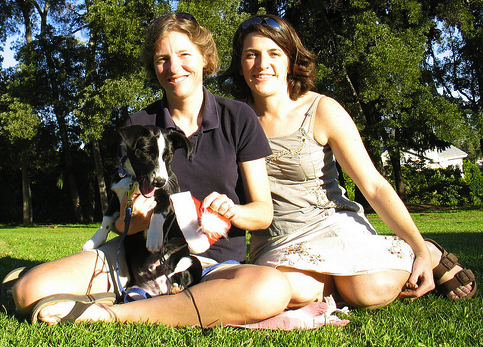 The two met through work in Washington, DC – Laura was in communications and Dyana managed a local non-profit. When Dyana had a chance to get her PhD at the University of Southern California they moved out west together, and things moved pretty quickly from there.

"It just was a good fit – it just felt right," says Dyana. "All of the doubts just went away." Last summer they got engaged.

"We've been in relationships before, and you know how that goes – sometimes it works well and sometimes it doesn't," says Laura. "It was pretty obvious that we were both on the same page and wanted to take that next step."

For the ceremony later this year they're coming back to Washington, where they still have many friends – some of whom are helping them with the challenge of long-distance wedding planning.

"It's really exciting," says Dyana. "I think for our families it's important to have the wedding be legitimized. Having it in a place that recognizes the relationship is important."

"And having a church wedding is important," adds Laura. The couple will say their vows at Luther Place Memorial Church.

Unfortunately California won't legally recognize their marriage, although Dyana is cautiously optimistic that her home state will eventually "do the right thing."

But, Laura says, "If somebody asks us about our relationship, we'll still be married – that answers the question."

"Sometimes you're in a relationship and it's one plus one equals two," she adds. "But for us there's a synergy – she makes me more than myself. I hope I do the same thing for her, but I know that one plus one is much more than just two."