Rahm Emanuel
Rahm Emanuel is an American politician and former White House Chief of Staff to President Barack Obama. He served as senior advisor to President Clinton at the White House from 1993 to 1998 and as a Democratic member of the United States House of Representatives, representing Illinois's 5th congressional district, from 2003 until his resignation in 2009 to take up his position in the Obama Administration.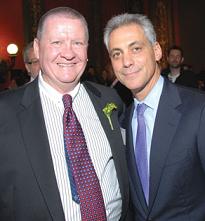 Emanuel was chair of the Democratic Congressional Campaign Committee during the 2006 mid-term elections and remained a top strategist for House Democrats during the 2008 cycle. After Democrats regained control of the House in 2006, Emanuel was elected chairman of the Democratic Caucus. This made him the fourth-ranking House Democrat, behind Speaker Nancy Pelosi, Majority Leader Steny Hoyer and Majority Whip Jim Clyburn.
Two days after Obama's election victory, he was announced as Barack Obama's designate for White House Chief of Staff.
Emanuel resigned from the House on January 2, 2009 and began his duties as Chief of Staff on January 20, 2009, the day of Obama's inauguration.
Emanuel resigned as Chief of Staff effective October 1, 2010, in order to pursue a campaign to run for Mayor of Chicago following the retirement of Richard M. Daley. Learn more here.
On December 10, 2010, in an interview with Windy City Times, Mr. Emanuel expressed his support for the repeal of "Don't Ask, Don't Tell", the repeal of the so-called Defense of Marriage Act and the passage of the Employment Non-Descrimination Act. Part of the interview included:
"WCT: Let's move on to another piece of legislation: DOMA [ the Defense of Marriage Act ] —was signed in 1996. Do you feel that it should be repealed?

"Rahm Emanuel: Yes. Always have. You can go back to my questionnaire when I ran for Congress that was in your own paper.

"WCT: So, back in '96 do you think that Clinton should not have signed it?

"Rahm Emanuel: Look: I'm loyal to President Clinton. I'm loyal to President Obama. What my advice was... I don't need to get into what I personally advised them or what my own sympathies were.

"I believe that legislation should be repealed. I believe that gays and lesbians should be allowed to get married. That's why I thought the civil unions [ are ] the right thing to do, but it's only the first step toward an ultimate goal." [Link]
Freedom to Marry salutes Rahm Emanuel as a Voice for Equality!